News
LATEST NEWS AND SPONSORING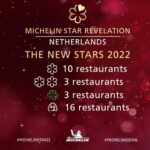 Today the Michelin stars are handed out again and can proudly say that we deliver now to 40 Michelin star restaurants (* and ** stars) alone in The Netherlands!
We would like to congratulations the concerned restaurants!
.
.
.
===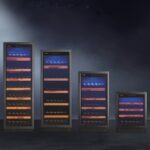 We are currently working on a completely new website (including Webshop) in which the "look & feel" of CoolVaria will also be adjusted. Of course, the quality and service of CoolVaria will not change. The new website is expected to be ready in the second quarter of 2021. To give you an idea, here is the advertisement we placed in Horeca kookbook (for supporting the Hotel & Catering Industry)!!
===
This week the Michelin stars are handed out again and can proudly say that we can add some Michelin star restaurants to our list!
Restaurant Monarh from Tilburg, restaurant Olivijn in Haarlem and restaurant Rijnzicht in Doornenburg have won their first star. An excellent performance and a very nice recognition for the quality of the kitchen and the service of the service. Congratulations!
===
Congres Rotterdam:

December the 8th CoolVaria will be present at a conference (IVP) to demonstrate the different climate cabinets for wine, chocolate, cheese, beer, cigars, research, medicine, etc.
===
The refrigerator a Cool invention. 
CoolVaria has published an article in the magazine Villa d'arte (Culinair & Wellness) about the creation of a "refrigerator". As from that point on the evaluation of the climate cabinet came in progress . Click here for the article (only in Dutch available).
Text: Janna Rijpma.
===
New Project!

Currently we are doing research for a new wine climate cabinet integrated in the interior (worktop, office, diningtable, etc.). All possibilities will be discussed and hereby already some pictures……
===
New Sales Office Southeast-Asia!
From the 1st of July a new sales office of CoolVaria has been opened. This office is located in Kuala Lumpur (Malaysia), in order to have a better and more efficient customer service.
The address:
No.1 Jalan Dutamas 1
D4-U3-13a
50480 Kuala Lumpur
Malaysia
===

As from April 4, our office is located at the same location as our warehouse, namely at Ravenswade 150R in Nieuwegein. The accessibility (routing and parking) has become easier. Our phone number and our e-mail address are unchanged
===
The Rotterdam Lions Club will host a fundraising event. This  Charity Wine and Liquor Sample Party will take place on november the 23rd. Wines will be available for purchase by the bottle or the case. Such events enables the Rotterdam Lions Club to donate to charities and local programs. This year they fundraise for buying christmas gifts. These gifts will be given to the refugees of the Paulus church just before christmas.
Off course CoolVaria wants to promote this good cause and has donated a climate cabinet which will be auctioned during that event.
===
Together with our customers we have been searching for the right hanging system for glasses.
We developed a special system and now your glasses (and corkscrew wine opener) can be hanged together with your favorite wine……….(look for more details and pictures on the accessories page) 

CoolVaria is now also on Facebook.
=== 
Forum Vini München
Also this year we are exhibiting at the Forum Vini in Munich (Germany). This event is held from  8 – 10 november and is for wijn exploring, wine tasting and storing wine……!
===
Golftournament HvdW.
Heeren van de Wijn has had her second Golf Tournament and CoolVaria sponsored this Privat event. Despite of the weather (15 degrees) is was again very successful.
===
Badische Weinmesse- Offenburg
To be held on the 4th and the 5th of May in Offenburg (Germany)
===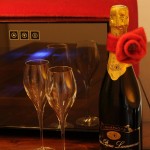 Valentine-champagne-cooler!
Valentine's Day, the day when love sparkles.
Butterflies in our stomach, beating hearts. Loving relationships are sealed with passion.
It is the day when we show someone our devotion or (secret) love.
click here for more information.
===
New accessoires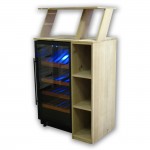 New accessories
Each user has his/her own particular requirements and we are in business to serve our customers, and we can only do that if we know what our customers want.
When we genuinely listen to our customers, they will let us know what they want and how we can provide best service and or accessories.
Some new accessories are: Stylish top storage unit for storing white and red wine glasses and other bottles (whisky, port etc.) in order to make a liquor cabinet, Raised wine/beer shelf, etc.
.
click here for more information.
===
Champagne cooler!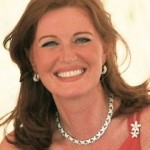 Wine expert Janna Rijpma has 'signed' a very special cooler… the champagne cooler.
This cooler is finished entirely in leather and it was the golden drink itself that formed the source of inspiration for the type, process, colour and accents of the leather in the form of beautiful crystals that vary in colour to emphasise the variations in champagne.
The specially designed bottle support, which allows 'every' champagne bottle to be ideally positioned, is an added bonus. click here for more information.
===
(some examples of publications and advertisements)